News
WHY A HAITIAN GRAFFITI ARTIST IS PROTESTING FOREIGN AID
by Emmanuel Pierre-Louis on Sep 17, 2020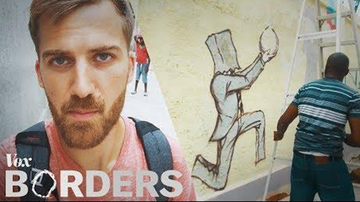 I spoke with a Haitian graffiti artist about the unintended consequences of longterm disaster relief funding. Follow Johnny for more photos and videos from his travels Instagram:
https://goo.gl/CduwlO
Facebook:
https://goo.gl/l0x5cA
and Subscribe to the Vox Borders newsletter for weekly updates:
http://www.vox.com/borders-email
Haiti experienced a devastating earthquake in 2010. Seven years later, over 10,000 nonprofit organizations and $6 billion dollars of aid funding have been funneled into the country. Although there's still a desperate need for basic services such as food, healthcare, education, and shelter, questions have arisen about whether this continuous aid has become a crutch for the Haitian government. Similarly, Haitians themselves are awaking to the notion of self-determination in their country. Vox Borders is a new international series focused on telling the human stories that emerge from lines on the map. Johnny will travel to six border locations to produce a final set of documentaries. While he travels he'll release dispatches on YouTube and Facebook documenting his experiences. Learn more:
http://www.vox.com/borders
Vox.com is a news website that helps you cut through the noise and understand what's really driving the events in the headlines. Check out
http://www.vox.com
to get up to speed on everything from Kurdistan to the Kim Kardashian app. Subscribe to our channel!
http://goo.gl/0bsAjO
Check out our full video catalog:
http://goo.gl/IZONyE
Follow Vox on Twitter:
http://goo.gl/XFrZ5H
Or on Facebook:
http://goo.gl/U2g06o